Welcome
---

Pin BestSuggest to Your Browser
Click the jigsaw puzzle piece at the top right corner of your browser and select BestSuggest in the dropdown menu. That's it!
Next

Start Browsing
Yes, it's that simple. Once you begin to search for products, articles or whatever you're interested in, top recommendations for will automatically appear – reducing your research time significantly!
Next
App Features
---

Tab Grouping
We deliver recommendations directly to you! They'll automatically appear as you browse, making them convenient and easy to view. To close a Tab Group, simply right click the Tab Group name and select 'Close Group'.
Next

BestSuggest Widget
With just one click, access a complete list of relevant recommendations for you to explore.
Next

Save For Later
Click on the bookmark icon to save a for later – you can find a full list of your saved recommendations within your BestSuggest Widget.
Next

Hit Snooze
Put a pause on your recommendations, or pick where you'd like them to appear from within your Settings.
Next

Similar Results
Check out the results that other people chose for the terms that you are looking for.
Next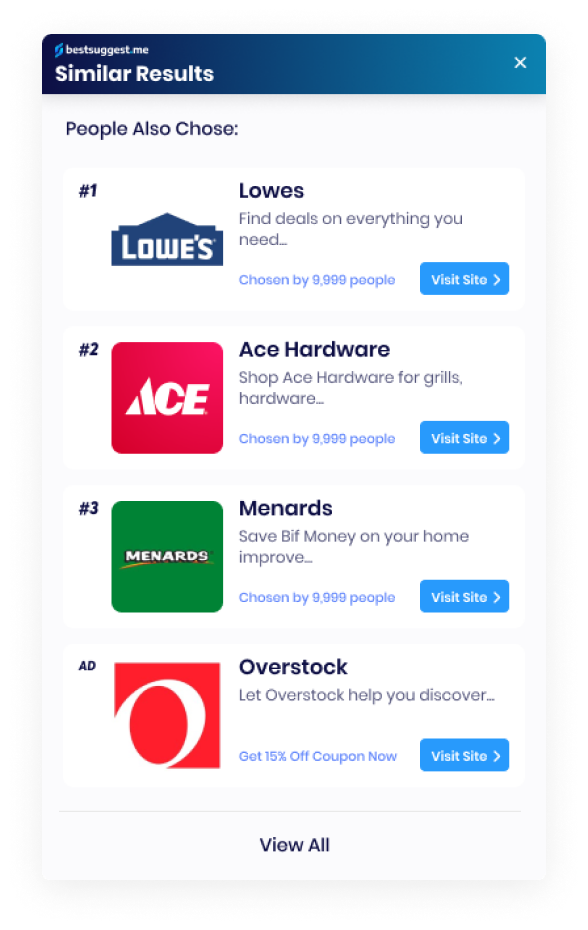 Privacy
---

Keep Your Data within Your Control
Your privacy is a priority and we want to be present only when you want us to. You have the power to choose how and when you'd like us to appear.
In order for BestSuggest to create a valuable experience with useful recommendations, access to the current page you're on is required.
Next